Marmaris Water Park Prices
| | | | |
| --- | --- | --- | --- |
| Water Parks in Marmaris & Prices | Price at the Entrance | Our Special Offer | Bonus |
| Aqua Dream Water Park | 12 £ | 10 £ | Both Ways Free Hotel Transfer |
| Atlantis Water Park | 10 £ | 8 £ | Both Ways Free Hotel Transfer |
| Star Water Park | 10 £ | 8 £ | Both Ways Free Hotel Transfer |
Summer vacations are better characterized by unlimited joy, the sound of the splashing water and the warmth of the sun. Visitors of Marmaris are able to enjoy all at the same time and maybe something more than that. This famous holiday resort is one of the most popular destinations in Turkey. Of course there are numerous reasons explaining the increased popularity of Marmaris. This seaside city has beautiful beaches, exceptional landscapes, rich tradition, authentic character, and of course several archaeological sites. Holiday makers are also able to join a variety of activities and excursions in order to upgrade their experience and create some long lasting memories.
If you are planning to spend your holidays in Marmaris and you are looking for the ultimate fun adventure, there is some good news for you! Marmaris is packed with two enormous and super-exciting waterparks. With a family-friendly atmosphere and thrilling slides, these waterparks is definitely what you need for a relaxing, yet adventurous day in Marmaris.
How Many Water Parks in Marmaris ?
There 3 water parks in Marmaris, Atlantis (the one on the beach front), Aqua Dream (the biggest one), Star Aqua Park (the smallest).
AQUA DREAM WATER PARK MARMARIS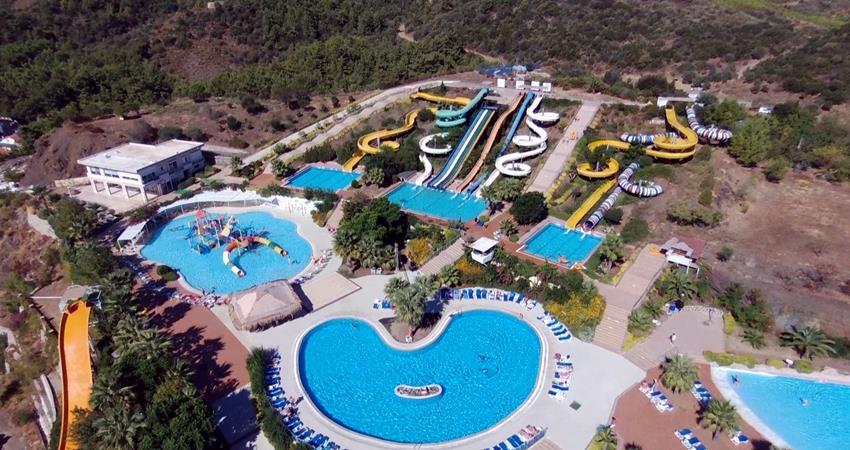 Aqua Dream Water Park is the biggest of them all. It is located at Armutalan area, just few minutes away from the city centre. This waterpark impresses visitors with its size and the variety of slides and pools that has. Visitors are able to find high-speed vertical slides that boost adrenaline's levels, as well as relaxing and slow-speed ones. Aqua Dream features also many thematic pools and water-related activities such as the Pirate's Ship, the Mushroom Adventure River and the Extreme Wave Pool. It must be noted that, there are specially designed shallow pools for children and adults' only pools.
BOOK NOW – AQUA DREAM WATER PARK
ATLANTIS WATER PARK MARMARIS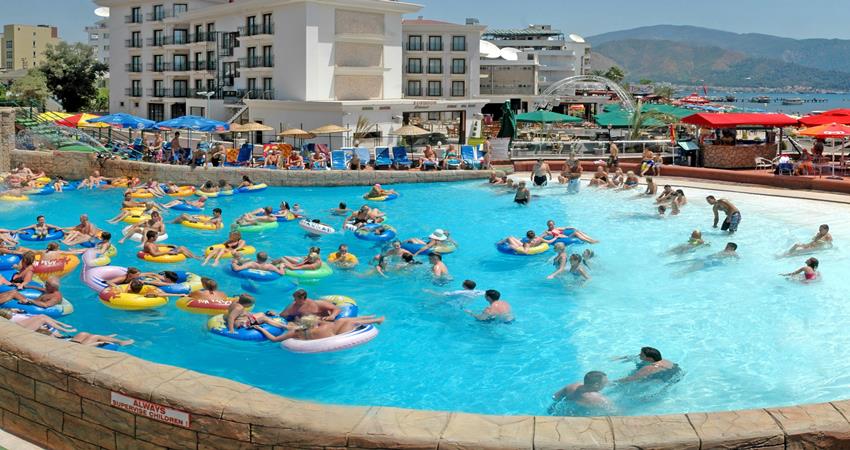 When it comes to the waterpark with the highest popularity, then Atlantis Water Park is the one. This thematic aqua park is found at Siteler area and has a unique ability to combine both, an exceptional waterpark with and a private beach. The facility targets to offer you the necessary comfort, safety, relaxation and adventure in an all in one package. This is because it makes available multiple slides with different difficulty level, pools, activities such as mini golf and bowling, and a children-friendly area with shallow pools, easy slides and playgrounds. Atlantis Waterpark is also known for having upgraded catering services with thematic bars and restaurants.
BOOK NOW – ATLANTIS WATER PARK
STAR WATER PARK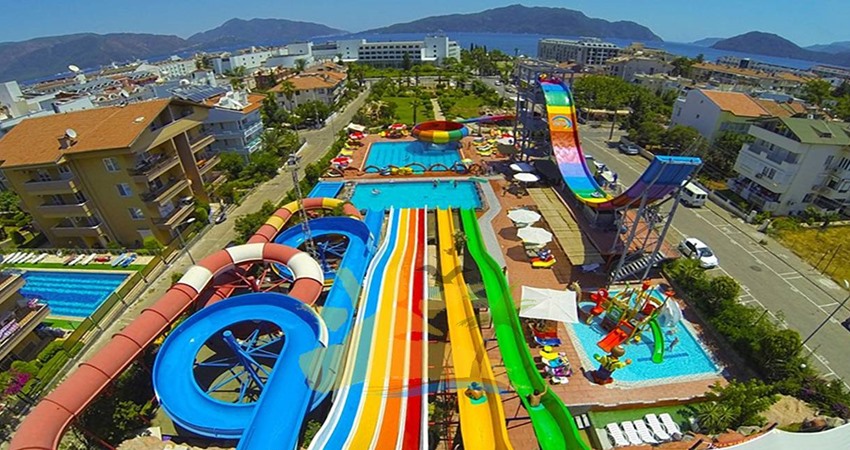 Star Water Park in Marmaris is known as the smallest water park in town. This little water park is pretty popular among the families with children. It is very easy to keep an eye on your children. The water park has many slides and not boring for the parents either. They have a small restaurant and a bar, which is open all day long in the park.
BOOK NOW – STAR WATER PARK
Holiday makers are also to find small size Water Parks in Marmaris even in hotels. However, nothing compares with a visit in one of the imposing and specially designed waterpark facilities that the city has. If you are interested in spending a day full of laughter, joy and pleasure there are several excursions that take you there with all inclusive packages. In addition, for the youngsters, there are night visits during which you can join pool and foam parties. Visiting the waterparks of Marmaris is definitely an option for all as you can revitalize your senses, release the stress and boost your adrenaline levels.