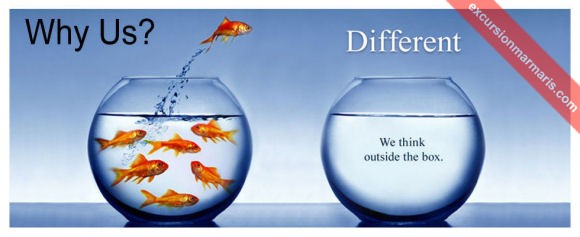 Keeping Marmaris, İcmeler and Turunc as your base, there are many places you can visit nearby and extend your vacation to experience the most enjoyable times of your life!
We can arrange special  marmaris private tours for our guests to visit the most interesting places around Marmaris, icmeler and Turunc. Our private tours are specially arranged with the visitors' perspective. We help our visitors to make their own tour program! As our honorable visitors, you are able to choose where you are visiting, make out your own itinerary, chose your place to eat out and select places to spend more time. With our local knowledge and touring experience, we will arrange to execute your tour plans according to your wishes.
We can arrange Marmaris City Tours exclusively for your group. The great thing about these private tours is that you can plan them at any time of the year. As visitors, you are free to choose the places you like to visit, select locations to stop in between and spend time; choose your favorite eat-out location, etc. In short, you can plan your own Marmaris city tour itinerary!
Our Marmaris Private Boat Trip is very special as we provide you great fun, and plenty of opportunities to watch the lovely scenery, enjoy swimming and snorkeling, and sun-bathing. You can visit the 7 legendary bays of Marmaris and nearby villages as well. If you need a resting holiday, you can just sip on the juices and lay on the sun-beds!
We arrange daily private tours from Marmaris, icmler and Turunc to Pamukkale. The great thing about these private tours is that they can be arranged at anytime of the year. We can provide best maintained vehicles for your exciting full day excursion to Pamukkale and nearby places.
Ephesus offers a great option for those interested to learn more about Turkey's ancient history. We arrange tailor-made private tours to Ephesus from marmaris, icmeler or turunc on regular basis and welcome tourists to participate in these interesting and informative excursions specially designed as per your own program.
We arrange everyday Marmaris Private Dalyan Tour. Our convenient and comfortable vehicles will take you from Marmaris to Dalyan side in just around 80 minutes! Enjoy a full day of excitement by participating in our tailor-made, full day Dalyan excursion.
Marmaris is not just about having fun around the beaches and spas or enjoying your leisure within the resorts. Just as you take a 30-minute drive away from this crowded resort center, you will be surprised to have a glimpse of Turkey's traditional outlook.
A life time opportunity awaits you in Marmaris , if you ever wanted to learn how to scuba dive and explore the beauties under the water , Marmaris is perhaps the best place for you to start. The Open Water Padi Diving Course in Marmaris is the world's one of the most popular scuba diving course.
Marmaris Shore Excursions
Once the tour plan is ready, we provide our fully conditioned and best vehicles with qualified drivers to help you enjoy your best times around Marmaris. We can also provide guided tour services for all of the archeological sites like Ephesus, Caunos, and Hierapolis and Pamukkale. We have private boat trips from Marmaris, icmeler and Turunc. Private All-inclusive-boat-trip in Marmaris, icmeler and Turunc , if you have a liking for spending your day sailing in the sea. We have just made a mention of few places around Marmaris. There are many more places to where we can arrange private excursions especially for your group!
The cost of any private tour from icmeler , marmaris and turunc are arrived at calculating the number of people joining us on that particular tour and the facilities on offer, such as food, transportation charges, entrance fees, guide services, insurance, additional safety equipment, etc.
Either you are on a holiday in the town or just visiting Marmaris for a day by a cruise boat or else you can still use our services. We specialize in organizing private excursions to many interesting places around marmaris, icmeler and turunc. You can contact us for more details. Once you let us know the number of people joining the excursion and the itinerary you desire, we will be able to arrange for everything to make your trip a truly enjoyable experience.