Holidays in Marmaris are all about enjoying the sea and the sun. It is not a coincidence that this city attracts millions of visitors every year. Marmaris achieves to perfectly combine everything people need for great vacations. Choosing to spend your vacations in Marmaris is an excellent idea. The city demonstrates a long history with multiple places of interest, and an interesting culture waiting to be explored. Moreover, the town is a heaven on earth for the sea lovers and the variety of Boat Trips in Marmaris is another reason to have your holiday here.
However, what really makes Marmaris a popular summer resort is the incredible variety of beaches and the beautiful coastline that has. The city is washed by the blue colours of the Mediterranean Sea, allowing visitors to enjoy swimming and feel the laid back atmosphere of the beach like never before. While you can find a beautiful beach easily in Marmaris and spend your day, there are boat trips that takes you to some of the most stunning, unspoiled and iconic bays of the area.
During your holidays in Marmaris, you can find a plethora of boat trips depending on your time and preferences. Most importantly, you can find a wide range of boat trips that correspond to your individual budget. In case you though boat trips are luxury additions to your schedule, we are happy to let you know that they are not.
Marmaris Boat Trip Prices 2024
The season for Marmaris boat trips begins early April 01.04.2024 till the last days October 31.10.2024. You can find daily boat trips from Marmaris.
| | | | |
| --- | --- | --- | --- |
| Marmaris Boat Trips | Adult | Child (7-12) | Infant (0-6) |
| Marmaris Boat Trips All Inclusive | 20 £ | 5 £ | Free |
| Marmaris Aegean Island Boat Trip | 15 £ | 7 £ | Free |
| Marmaris Cleopatra Boat Trip | 16 £ | 8 £ | Free |
| Marmaris Pirate Boat Trip | 16 £ | 8 £ | Free |
| Marmaris Dalyan Boat Trip | 15 £ | 7 £ | Free |
| Marmaris Mega Diana Boat Trip | 50 £ | 30 £ | 10£ |
| Marmaris Boat Trip With Lunch | 12 £ | 6 £ | Free |
| Marmaris Booze Cruise | 40 £ | 20 £ | Free |
| Marmaris Moonlight Cruise | 5 £ | 2 £ | Free |
How much is a boat trip in Marmaris?
The availability and variety of boat trips in Marmaris impresses every visitor, as there is surely something for each and every one. In what regards pricing, it is subject to the duration of the trip, the basic features, if it includes meals, and how many stops the schedule includes. There are boat trips that combine relaxation with sightseeing, or nature exploration, or even exciting sea related activities, i.e. fishing or scuba diving. With this respect, the price of each boat trip is also subject to the entrance fees or the equipment you might need. In general, boat trips in Marmaris are affordable if you consider that they give you the opportunity to explore the magnificent Mediterranean Sea and spend few hours full of laughter, joy and relaxation. Roughly speaking, the base price of the boat trips in Marmaris is 10 £ and increases depending on the factors mentioned earlier.
What are the boat trips like in Marmaris?
The coastline around Marmaris includes some spectacular must-visit beaches. An interesting highlight is that, some of them are accessible only via the sea and are characterized by an unspoiled and pure setting. The great majority of boat trips depart from Marmaris, and from the nearby smaller resorts of Icmeler and Turunc. The schedule includes multiple breaks where you can swim into beautiful and imposing bays. For example, you may visit the Aquarium Bay, the Kumlubuk, Turtle beach and the Jesus beach. These beaches are characterized by a breath-taking landscape and are ideal for those who wish to swim into crystal clear waters.
In addition, there are boat trips that take you to visit some nearby islands, natural wonders and interesting sea caves. For example, you may join a boat trip to Dalyan that includes several swimming stops, sightseeing, visits at mud baths and gives you the opportunity to swim in both, river and sea water. Such boat trips are usually full day excursions and give you the chance to create long lasting memories as they combine everything you might need. Full day boat trips are ideal for people of all ages as they cover a wide range of interests. When joining a boat trip in Marmaris, be sure that you will spend a day full of fun, excitement and relaxation as every boat trip has its own unique atmosphere and vibes.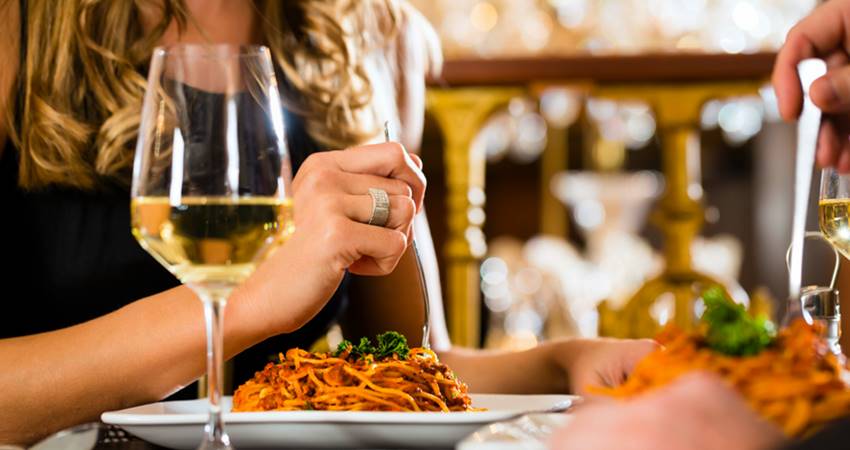 Are there any night boat trips in Marmaris?
In Marmaris, visitors are also able to choose from a variety of alternative, night boat trips. These particular options are ultra-entertaining and ideal for youngsters wishing to join a party atmosphere, or for couples seeking romance. For instance, the Moonlight Cruise gives you the opportunity to enjoy sailing around the beautiful and charming coastline of Marmaris, while enjoying a dinner under the starlight. Night boat trips are perfect for escaping the crowds and for experiencing the charm that the Mediterranean Sea has during the evening.
Read More – Moonlight Cruise
Boat Trips in Marmaris
It is obvious that there is something special about Marmaris and the city's hype is definitely not a coincidence. In fact, Marmaris is famous for being one of the most cosmopolitan, popular and vibrant cities in Turkey. Washed by the incredible waters of the Aegean Sea, the city combines also an amazing countryside with forests and lush vegetation. This perfectly paired combination enables visitors to admire stunning natural beauty and imposing views. Except from the tranquil setting, it is also a popular holiday destination due to the incredible variety of Boat Trips in Marmaris that are available to the holidaymakers. The city has everything you might need for joyful, playful, relaxing and unforgettable vacations.
The options are many and if you are planning to visit Marmaris make sure that you will enjoy the best services and activities. In an effort to do so, your holidays should definitely include sightseeing, cultural exploration and multiple boat trips from Marmaris into the blue waters of the sea.
Boat trips are among the best things to do in Marmaris as they are perfect for people of all ages and cover many preferences. The incredible variety of boat trips is able to satisfy your needs for relaxation, serenity, adventure and excitement by offering you an all-in-one package. There are boat trips that take you towardsMarmaris' most impressive beaches and give you the opportunity to explore secluded coves and nature at its finest. An interesting highlight is that, except from the typical boat trips, there are many specially designed and alternative boat trips. For example there are night boat trips, sightseeing and boat trips for scuba divers.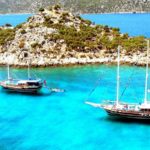 In case you are searching for a boat trip that includes multiple stops at some of Marmaris' most known bays, then this is definitely an option. Available at an affordable price and ideal for all group ages, the Marmaris Boat Trip combines perfectly fun, exploration and relaxation. Visit Heaven Island & Fish Farm, Aquarium Bay, Phosphorous Cave,Kumlubuk and Amos, Turunc Village and Green Sea with an all-in-one package. Unlimited consumption of soft drinks, beer and wine, a delicious BBQ lunch and a professional crew which is ready to pumper your needs are some of the key highlights of this excursion.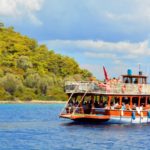 This particular full day excursion is the perfect one in case you want to experience the ultimate relaxation and swimming into crystal clear waters. Around Marmaris, there is a plethora of charming secluded bays and unspoiled islands. The Aegean Island Boat Trips promises to sail you towards the most stunning swimming spots of the area. Have fun with your friends or family, relax under the Mediterranean sun and admire the tranquillity of the sea. Among others you will visit Jesus beach, Hidden bay, Dislice Island and Aquarium bay.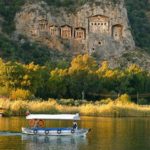 Characterized by an unparalleled natural beauty, Dalyan Turtle Beach is one of the most spectacular and impressive beaches in the country. This particular boat trip takes you to explore the bay where the river water meets the sea water. The bay also hosts sea turtles so you might be lucky enough to observe some. Koyzekiz Lake is another beautiful location to visit during this boat trip. It is the biggest lake in the western part of the country and a popular attraction for both, locals and foreigners. This full day, family friendly boat trip gives you also the opportunity to experience crab fishing, swim into mud baths and unfold the beauty of nature.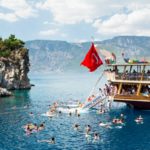 Among the many places you can sail around Marmaris, there is one that you should definitely visit if you are interested in sightseeing, history and in witnessing a unique setting. According to the legend, Mark Antony gifted this island to Cleopatra and brought sand from Egypt. In fact, the island has unique sand and is impossible to find a similar one in the country. This full day boat trip takes you there and gives you the opportunity to explore and enjoy this magnificent beach. On the island you may also find ancient ruins. This excursion is ideal for families, couples or solo travellers.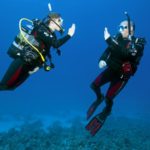 Get away from the crowds and participate in an alternative underwater exploration with a Diving Tour while in Marmaris. If you are interested in boosting your adrenaline levels or if you seek to embrace your inner adventurer, the Diving Tour in Marmaris is an ideal option. There is no need to have prior experience in diving. Our certified instructors will give you an interesting briefing and explain how to use properly the diving equipment. During this excursion, you will have the chance to dive at two different spots. Each dive lasts for almost 20 minutes during which you will explore the underwater world and admire the tranquil and serene setting. Please note that participation is allowed for people above 12 years old and that non-divers are also welcome aboard for an alternative boat trip.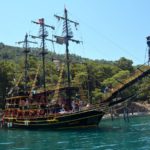 Unlike other boat trips which target to offer you an endless relaxation and rejuvenation, the Pirate cruise promises to offer you the ultimate fun and entertaining day. Embark on a specially designed, pirate-like boat and allow yourself to have some fun aboard. Spacious decks for the sun seekers, unlimited consumption of beer, wine and soft drinks, swimming stops at beautiful bays and a foam party are some of the things you should expect! The Marmaris Boat Trip is a family friendly, full day excursion able to offer you long lasting memories.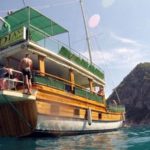 Exclusivity is perfectly paired with upgraded service in this full day boat trip. The Mega Diana cruise is made with a spacious and comfortable boat which is fully equipped to offer you an all-inclusive experience. Sail around Marmaris, swim at some beautiful bays, relax on the decks and set yourself free to unfold your senses and revitalize your mind. In this excursion, only a limited number of participants are allowed, enabling you to cruise around in a more exclusive setting.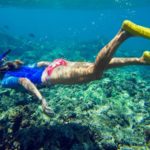 This full day boat trip is ideal for anyone who wishes to join an alternative, yet interesting experience while on holidays. Marmaris is particularly popular as it is washed by the Aegean Sea. These waters host an incredible variety of fishes and reefs that you can explore with snorkelling. No prior experience is required as professional instructors will explain everything to you. Swim into the azure waters of the Aegean, observe the underwater world and feel the serenity of the sea with an unforgettable boat trip.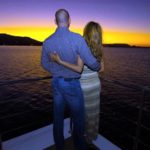 An alternative type of boat trip targeting your entertainment is what Moonlight Cruise offers. The boat trip begins during the afternoon and lasts for four hours. During this time, the spacious boat will sail around the beautiful coastline of Marmaris, giving you the chance to observe the lights of the city. Under the starlight, you and your friends can join an amazing party aboard with a dinner and some drinks. Dance with your loved ones and have some fun with upbeat music. For those looking for some idyllic moments, you and your partner can observe some charming views from the decks while feeling the night sea breeze.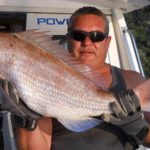 In Marmaris there are multiple thematic boat trips that are ideal for those wishing to maintain their active lifestyle or simply experience something new. The Fishing Tour is a half day excursion that enables you to experience how it feels to be fishing in the Aegean Sea. There is no need for prior experience or for equipment. Members of our team will be there to assist and provide you everything you need. The experienced local captain will take you to some known fishing spots and if you are lucky enough you might catch your own fishes. The Fishing Tour is ideal for all and non-fishing guests are also welcome.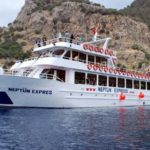 Visit one of the most impressive and unspoiled areas in the country and combine sightseeing with nature exploration. The broader area of Dalyan is a national park that hosts multiple spots of impeccable natural beauty. This boat trip takes you, among others, to the infamous Turtle Beach and at Köyceğiz Lake. Observe ancient tombs, learn the history of the area and get the chance to swim into crystal clear waters. The Daylan Tour is the perfect boat trip for all age groups as it covers multiple interests.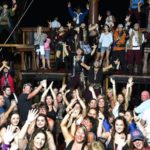 In case you thought that boat trips are only taking place during the day time, the Marmaris Party Boat is here to prove you wrong! Starting during the evening, this 4-hour cruise is an alternative outing option for people of all ages. Sail around Marmaris during the night and admire the coastline which is full of lights. As the boat sails away from the port, get ready for an amazing party. Mainstream music, alcoholic beverages and lots of dancing are the key factors contributing to the creation of an ultra-entertaining night. The Marmaris Party Boat is a great way to socialize and create some new friends while on holidays or make some long lasting memories with your friends or family.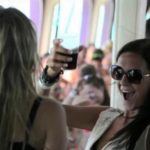 One of Marmaris' key characteristics is its vibrant and flawless party atmosphere. The interesting fact is that, you do not have to wait until the night time to experience this incredible atmosphere since Marmaris Booze Cruise can make this happen. Sail with a 3-deck spacious boat, visit some secluded and unspoiled bays, dance with upbeat mainstream music and enjoy an unlimited consumption of alcoholic and non-alcoholic beverages. Although Booze Cruise is strongly recommended for groups of youngsters, families are also welcome to join. The boat's crew is ready to entertain your kids with games, puzzles and other fun activities.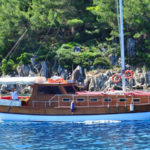 In case you wish to pumper and treat yourself with something extra, or if it happens to celebrate a special occasion during your holidays, there are private boat trips for you and your loved ones. These boat trips are fully customizable and able to meet even the most high-end and demanding expectations you might have. The pricing policy of the private boat trips is subject to the custom schedule and the extra features you want to add. Therefore, do not hesitate to ask for a quotation and create a truly memorable and special experience.