Marmaris Blue Cruise (Marmaris / Symi / Rhodes)
We are offering you a special cruise holiday for 7 nights and 8 days to visit the most beautiful islands & bays between Turkey and Greece. Our cruise tour starts from Marmaris Turkey and also visiting famous Greek islands of Symi & Rhodes, then returns back to Marmaris. This is a very special holiday opportunity with comfortable our wooden gulet yatchs which has the capacity of 12 people. With our special cruise tour, you will wake up every day in a different bay or sip your coffee in the morning sunshine and you will have the opportunity to sleep under the stars.
Port charges and other taxes
Full board accommodation
English speaking crew
Afternoon tea service
Free hotel transfer
Breakfast
Dinner
Lunch
(7 Nights / 8 Days) Marmaris / Symi / Rhodes
Our Marmaris Blue Cruise Tour season start at May (First Departure – 11th of May) till the end of September (Last Tour – 28th of September). We have definite departure every Saturday at 15:30. This tour departs from Marmaris also visits famous Greek islands (Symi & Rhodes) and ends in Marmaris.
Day 1: MARMARİS: Welcome on board, our yacht will be waiting for you at Marmaris Marina and check in time is 15:30 . If you are already staying in hotel in Marmaris you can use our free hotel transfer service. If you are arriving to Dalaman Airport (DLM) or Bodrum Airport (BJV), you can check VISTA TRANSFER (our sister company) to your airport transfer service. When all our guests arrive safely and on board your dinner will be served. You can enjoy your night by exploring Marmaris. Grand bazaar and the marina is very colorful at nights.
Day 2: ARAP ISLAND – BOZUKKALE: In the morning after the breakfast and a short demonstration (health & safety rules) by our guides, then our gulet leaves the port. Arab island is going to be our first stop, you will have time to swim and snorkel. This island is going to be the place where your lunch will be served. Marmaris Blue Cruise goes on with a comfortable sail to Bozukkale (Crooked Castle) which is a natural harbour. There is a historic castle and a settlement at Bozukkale ancient name (Loryma). During our stay, you can swim, snorkel, enjoy the sunshine or explore the remains of the fortress. Your dinner and overnight stay will be at Bozukkale.
Day 3: BOZBURUN: In the morning right after the breakfat our boat will set sail to Bozburun. This little town near by Marmaris isone of the most famous wooden gulet building town in Turkey. The area is also famous with crystal clear waters of Aegean sea. Till dinner time we will discover the untouched bays and islands near by. Our dinner and overnight stay will be in Bozburun or a small village near by.
Day 4: DATCA: Bencik Bay is one of Turkey's most beautiful bay its self. This natural harbor is literally separating Marmaris & Datca from each other. As this port is the narrowest part of Datca area, it is the most preferred bay by the yachts. After the breakfast at Bozburun we depart from Bencik Bay. You either swim and enjoy the sunshine or you can take a walk and after a short hike you can enjoy the panorama of Gokova & Hisaronu bays at the same time. In the afternoon we will arrive to Datca. This charming town is lovely at sunset, at night you can take a walk through this beautiful port town. Dinner and overnight stay will be in Datca.
Day 5: DATCA – SYMI: In the morning while we are having breakfast , our crew will also do the over seas paper works and formalities for you. When everything is done, our yatch sets sails to Greek island of Symi. The island of Simi will welcome us with pastel-colored like a view from postcards. Simi, with a population of about 2500 people, is a beautiful island built on a steep slope with colorful neo-classical houses of two floors. This charming island of Greece, which is 9 miles from Datca, will be one of the most exciting places on our blue cruise tour. Dinner and overnight stay will be at Symi harbour. You will haveplenty of time to explore this Greek island.
Day 6: SYMI – RHODES: In the morning while you are having your breakfast with the view of colorful Symi, our crew will also start getting ready for the sail to Rhodes. Island of Rhodes is the third biggest island of Greece. During our stay in Rhodes you are free to explore this beautiful island. There are many famous historical sites like the old town or the castle, but Rhodes is also famous with its nightlife. Your dinner will be served here and overnight stay in Rhodes.
Day 7: RHODES – MARMARIS: After the breakfast we sail back to Marmaris Turkey. Our boat will anchor in Marmaris harbour at 15:30. This is a great opportunity for you to explore Marmaris and its surrounding areas. Dinner and overnight stay will be in Marmaris harbour.
Day 8: MARMARİS: After the breakfast we kindly ask our guests to check out till 10:00
Marmaris Blue Cruise Tour that you will participate in not only offering you wonderful natural beauties to explore but also unforgettable tastes that you will try during your holiday. Our talented and experienced cooks are waiting for you.
Breakfast: – Served seven days as fixed. Three kind of Jam, Honey, Butter, Green Olives, Black Olives, Feta Cheese, Cheddar Cheese, Egg, Tomato, Cucumber, Fruit, Milk, Unlimited Tea and Coffee. Additionals like peperoni and sausages are also served.
Lunch: – Everyday different food options will be served. Chicken with Vegetables, Green Beans, Egg plant Moussaka, Stuffed Green Pepper, Egg plant with meat, Baked Pasta, Rice, Bulgur Pilaf, Pasta, Salads, Flushing with Yogurt, Cacik, Fruits.
Afternoon Tea: Unlimited Tea and Coffee, Biscuits and Different Cake Types.
Dinner: – Everyday different food options will be served. Grilled Fish, Fried Fish, Grilled Meat and Poultry, Meat saute, Turkey, Roast Chicken, Sauteed Mushrooms, Salads, Rice, Bulgur Pilaf, Pasta, Beans, Potato Puree, Yogurt Purslane, Pievarieties, Bean Salad, Fried, Cacik, Garnishing, Dessert, Fruit.
Notice: Please call us if you have any futher questions. All detailed information and all the questions about Marmaris Blue Cruise will be answered by our friendly team members on the phone.
Notice: Guests under 12 years of age cannot participate in this tour.
Important: We need to recive at least 50% of the total price as a deposit to reserve your place. You must pay the remaining 50% of the total amount at least ten days
before tour starts. You can make the payment online by your credit card or bank transfer.
Marmaris Blue Cruise Contact Number: +90532 1538898 / +90252 4177131
Marmaris Cabin Charter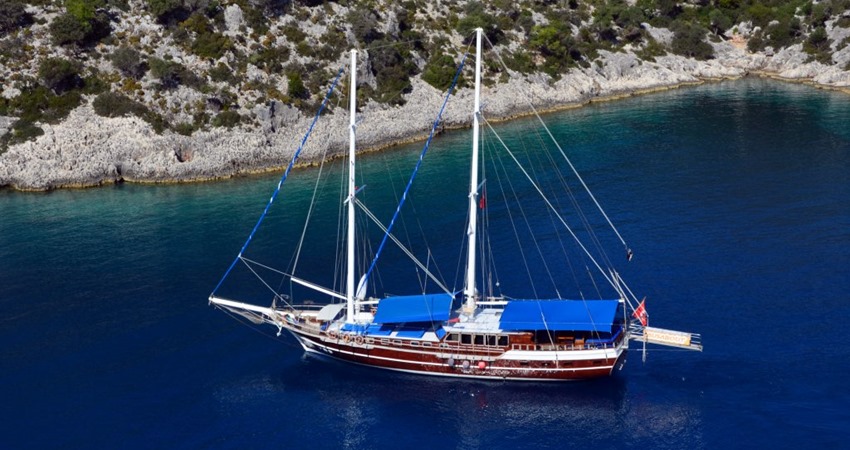 We offer you a special holiday option this summer with our gulet cruise boat which have only the capacity between 12 or 16 people. Our boats have the most comfortable features of standard and standard plus categories. We maintain every single boat at the beginning of each season for safety and cleaning checkups. Everything you need during your holiday is available in our comfortable boats.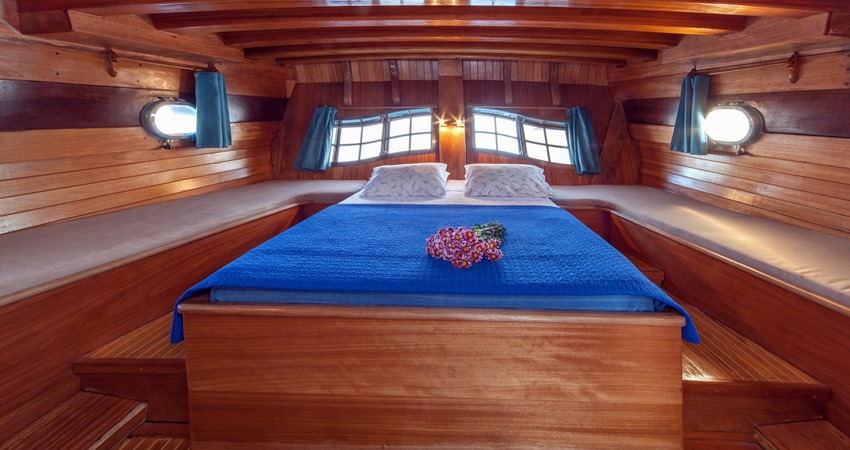 Our clean, comfortable rooms have a double bed for 2 people and each room has its own toilet and shower. Our crew is responsible for cleaning of the cabins, bed sheets and towels. We have private sun bed for each guest. You can book your blue cruise tour without compromising from your comfort.
Discovery of Turkey & Greece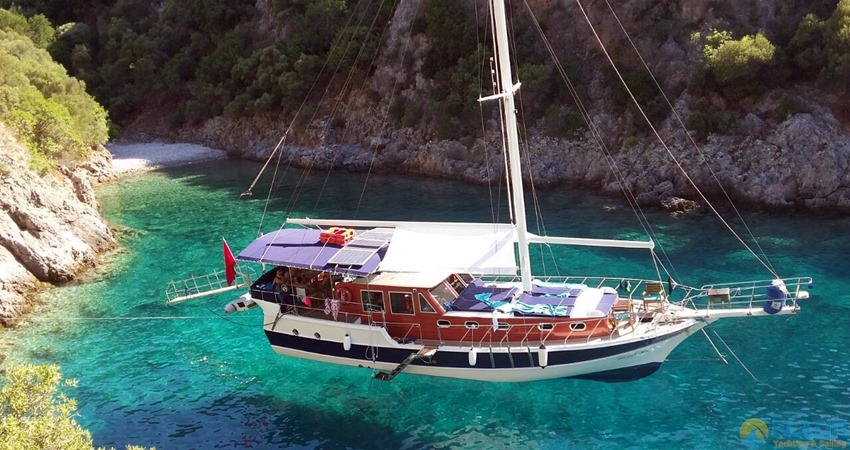 During Marmaris Blue Cruise Tour, you will visit dozens of different beautiful bays and islands between Turkey & Greece. Among these bays & islands, the most known ones are Bozburun, Datça, Symi and Rhodes. Most of the places you will visit are blue flag holders, this unforgettable tour awaits you in the Mediterranean with spectacular natural beauty.
Different Cultures and Nations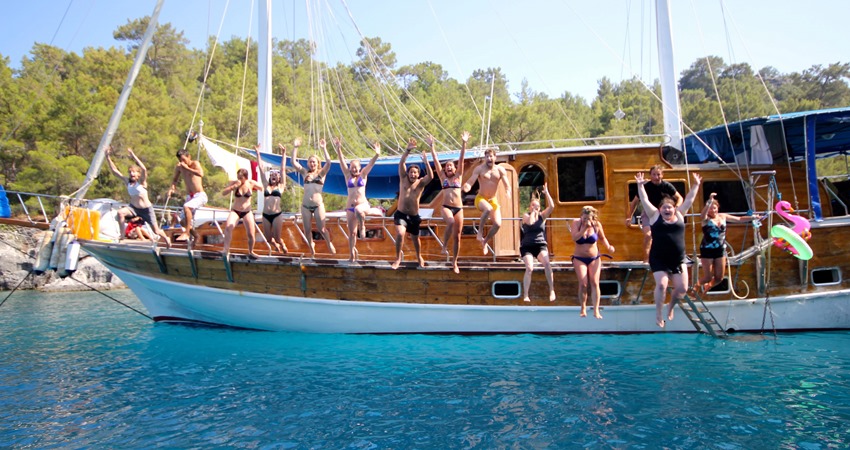 There will be different nationalities on board during the blue cruise tour from Marmaris. This is an ideal trip for people from different cultures & nations to come together and have a nice time together.
All You Need For A Good Holiday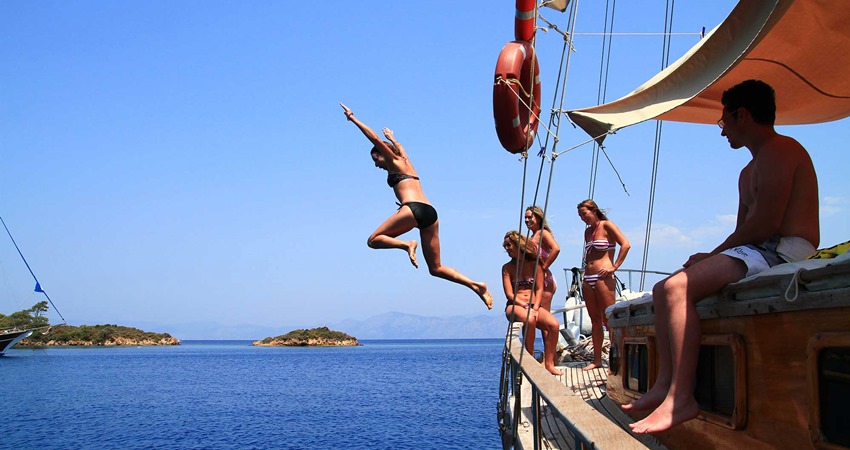 There are gadgets that you may need throughout your holiday such as masks, pallets, snorkels and fishing gears on board. Our guests can use these equipments for free of charge during the cruise.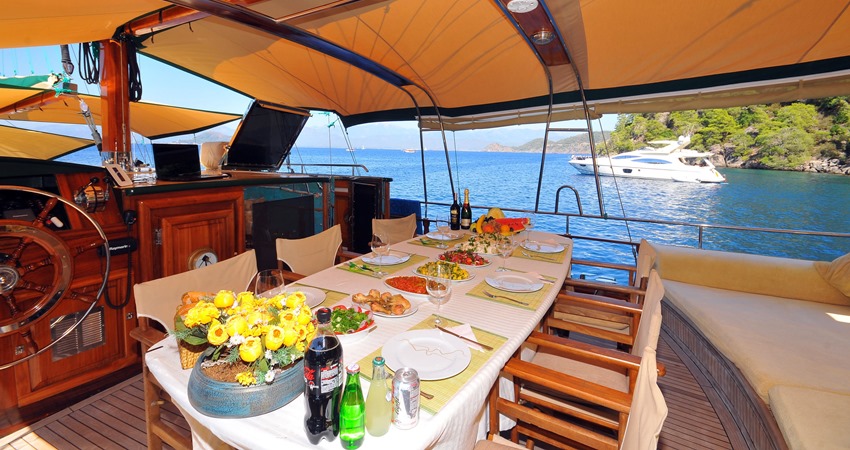 Our crew and talented cooks will offer you the most delicious food during this special holiday of yours. The different tastes of the Mediterranean cuisine will make you to remember this tour for a long time. For vegetarians or guests allergic to certain types of food please inform us about the issue in advance. A different type of menu will be prepared you.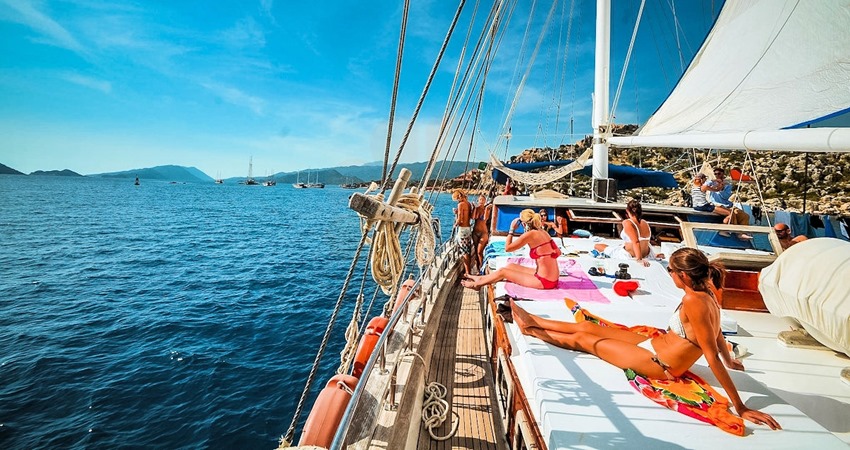 There are hundreds of reasons to book Marmaris Blue Cruise Tour instead of an ordinary hotel holidays. This tour, which we exclusively organize for you, is not only offering you a comfortable accommodation and delicious food options but it also gives you the opportunity to visit different bays & islands every day, stop at different ports and sleep under the stars every night.